Vivienne works at the intersection of entrepreneurism and operational discipline.
After graduating from MIT, Vivienne started her career at Procter & Gamble as a systems engineer where her engineering approach to problem-solving allowed her to see solutions across functional boundaries.
Vivienne transferred into Brand Management where she proved herself a brand building pioneer and innovator.
She was named the first global brand manager in P&G's history, helping to transform Pantene from a small regional brand into a global, billion-dollar business. She also led P&G's original Interactive Marketing and Media organization for which she received Advertising Age's distinction of Interactive Marketer of the Year.
Vivienne led the development of P&G's Marketing University, providing all corporate training for 5,000+ marketing employees worldwide. While living in Asia, she received the President's award for "Best Turnaround of a Function."
Vivienne led the U.S. diversity efforts for Asians in Marketing and Consumer Research resulting in breakthrough retention and advancement numbers. She was a key leader on P&G's Global Women's Leadership Team resulting in greater empowerment, satisfaction and business growth among women.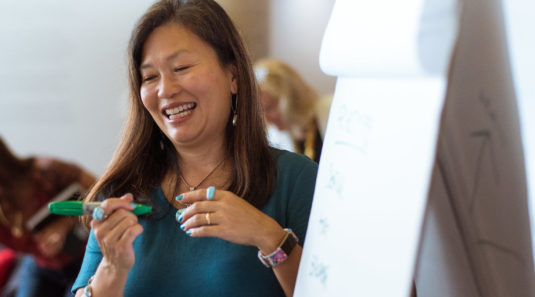 Vivienne was Jim Stengel's "chief of staff" when he was Global Marketing Officer at P&G. She has since worked with other CMOs in a consulting role on how set up and run an effective CMO office and organization.
During her time at P&G she attained the company's highest marketing honor, the lifetime designation of Harley Procter Marketer – one of only a dozen people to ever hold this distinction for innovation and leadership.
Vivienne has worked extensively in the non-profit sector, using her business and brand building skills to start one of the world's fastest-growing churches, with 35,000+ attendees/week and over $100 million raised. She also works with CAFO to lead their sustainable social enterprise initiative.